Welcome
Do you have a secret hope?  Is there something inside you that says that you can help to make your corner of the world a better place?
Inside each of us, there's a wish – a prayer – that we can make a difference.  Sometimes it's hard to know how.
We believe we can help you find it.
WHUMC isn't a place.  We're people like you, who want to make a difference.  We're looking for new ways to do just that, because that's what we believe God wants us to do.  You're invited to go on that journey, too.
---
If we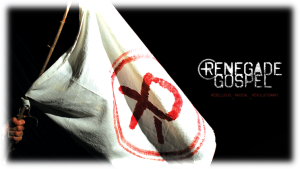 grew up going to church, we had a picture of Jesus painted for us in Sunday School.  But just how accurate was that portrayal?  From now to Easter, WHUMC is offering "The Renegade Gospel" — a look at Jesus as the Gospels reveal him to us.  The book by that name, written by pastor Mike Slaughter of Dayton, Ohio, will guide us in this time of discovery.
Thursday evenings at our Lent Event, we'll share a meal, and then talk about the Jesus of the Gospels.  (The Children's classes will do a different program called "UnTangled".  Then on Sunday, we'll worship around each week's theme.
This week — March 1: "The Rebel Jesus" — Son of God, Son of Man, Servant of All, Savior of the World.
(reservations are helpful for us if you wish to come to the Thursday Lent Events.)
______________________________________________________________________________________
Finance meeting scheduled for Tuesday at 7 is cancelled.
——————————————————————————
BREAKING NEWS: For some time now, the WHUMC Church Council has been in conversation about the Sunday Morning Schedule at WHUMC.  The call went out for thoughts to be expressed about the benefits and challenges that might be involved.  We heard from folks with their suggestions and questions, for which we are very grateful.  On Easter, April 5th, the Sunday morning schedule WHUMC will be:
9:30 Worship with the Praise Team
10:30 Fellowship Time
11:00 Worship with the Worship Choir of Willoughby Hills.
On following Sundays, Children's Sunday School will be offered at 9:30, and Kids' Church at 11:00.
And, on Easter Sunday only, we're bringing back the "Sonrise Service" at 7am.
Thank you to everyone who has been in prayer about this.  It's our hope that this will help us in our continuing effort to share God's good news with as many people as we can!